Teeth Filling In Dubai
Being the best dental clinic in Dubai, we provide a variety of dental services, including treatment for dental fillings. A restoration known as a filling is used to repair a tooth that has been decayed. After removing the decay, our dentist will fill the tooth with composite resin. Dental filling in Dubai procedures like are frequently rapid and painless, and they can aid in restoring the teeth's appearance and functionality. Ferdows Medical center has all its staff and doctors from restorative specialists, to gum specialists in Dubai, Teeth filling in Dubai and the best orthodontist in Dubai.
Types of Dental Filling in Dubai Available at Ferdows Medical Center
Composite Filling
When it comes to small- to medium-sized teeth, composite fillings are the best option to bear moderate pressure from the ongoing stress of chewing. Our fillings offer good durability and resistance to fracture. They are a fantastic option for those who desire a more natural-looking filling.
Silver Filling
The best option for large cavities or those that develop in the rear teeth, where a lot of power is required to chew, is frequently these silver-colored fillings. They have a lifespan of 10 to 15 years and, for a long time, where the material of choice for filling a cavity in a tooth. They are popular because of their teeth filling cost in Dubai and durability.
Teeth Filling Before and After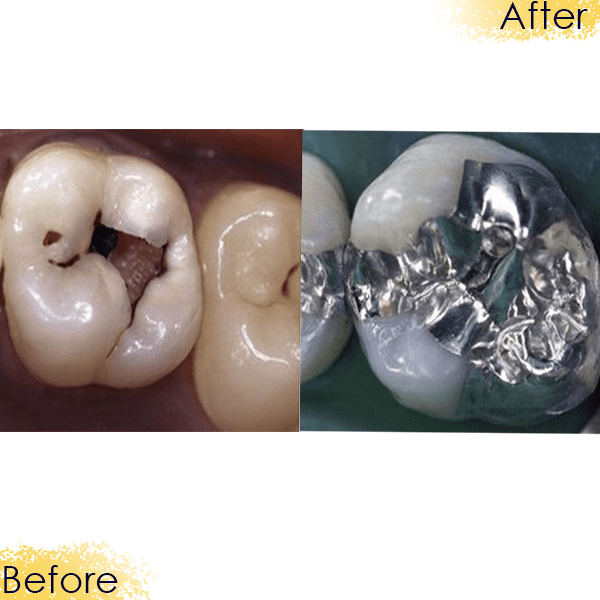 I went to Ferdows for my filler. I am satisfied with the results. The doctor hands is so soft that I did not feel any pain. I highly recommended this clinic for sure.
Very Satisfied
Очень хорошая клиника, врач очень понравился, внимательный, делает все быстро и аккуратно. Цены очень доступные - я буду рекомендовать эту клинику своей семье и друзьям Я плохо говорю по английский , но это не было проблемой, врач и ассистент все показали и объяснили так, что даже я поняла. A very good clinic, the doctor liked it very much, attentive, does everything quickly and accurately. The prices are very affordable - I will recommend this clinic to my family and friends I don't speak English well, but it wasn't a problem, the doctor and the assistant showed everything and explained it so that even I understood.
I do my veneer with dr shore is very nice .. an she so professional her job .. I highly recommended this clinic
I love th clinic treatment dr zhore is verry professional in her work. I do my 1 tooth veneer to her..
Hospitality very good .dr waleed treated well my dental gavity
Good accommodation the staff are very friendly and nice people the doctors is good they explain very well and for the price is flexible and affordable overall is a good medical center I recommend it
I do my cleaning dr Hussain was good ..
Ido my nose filler .. Dr asma is very professional .. I love my result .. highly recommend
Frequently Asked Questions
How long does a dental filling last?
The sort of dental filling you have greatly influenced how long it should last. Fillings often last for 10 years. Dental fillings are known as restorations with both types (silver and white) and can last for a long time as long as the person takes care of them. Other elements, such as dental cleanliness, and putting dental crowns and bridge can affect the fillings and their lifespan.
How should I take care of my teeth with a filling?
After a dental filling, it is advisable to refrain from eating anything tough, chewy, or sticky for up to a couple of days. Avoiding hot or cold meals and beverages may also be beneficial if you have sensitive teeth. Following a dental filling, there is no need to wait before brushing your teeth.
What causes tooth sensitivity after a filling?
After a filling, teeth may experience temporary sensitivity. This is typically due to the filling treatment aggravating or inflaming the nerve inside the tooth. Enamel and dentine, the tooth's outer layers, typically shield the nerve from contact.
How long after a filling can eat?
You should wait at least 24 hours before chewing on the side of your mouth with the filling while following your dentist's instructions. White/tooth-colored composite filling usually needs at least a couple of hours before drinking tea and coffee to not get discolored
How much does teeth filling cost in Dubai?
Depending on the number of surfaces, the depth of the cavity, and the type of filling, standard fillings range in price from 300 to 1000 dirhams, And along with teeth fillings in some cases if you are also looking for teeth whitening or dental implants treatment, then also the cost will spike up. No worries, we provide you with affordable teeth restoration services.